The Oratorio Society of Minnesota is an auditioned choral ensemble based in the Twin Cities area of Minnesota, now in its 44
th
Season season. In addition to its annual season concerts, OSM offers its youth and community engagement programs
Viva Coro!
and
Summer Chorus
. We challenge and delight our audiences and singers through dynamic and diverse choral music performed with skill and passion. Our civic engagement and educational programs foster lifelong choral singing.
"Twin Cities' foremost presenter of large-scale works for chorus and orchestra."
Pioneer Press (11/2016)
Winter Concert
Spring Concert
Our 2023-2024 Concert Season
Select a season to explore and then move the mouse over the desired concert poster for more detailed information.
2023-2024
2022-2023
2021-2022
2020-2021
2019-2020
2018-2019
2017-2018
2016-2017
2015-2016
2014-2015
2013-2014
2012-2013
Winter Concert
Spring Concert
Winter Concert
Spring Concert
Summer Chorus Concert
Spring Concert
Summer Chorus Concert
Winter Concert
Spring Concert
Winter Concert
Spring Concert
Winter Concert
Spring Concert
Summer Chorus Concert
Winter Concert
Spring Concert
Summer Chorus Concert
Winter Concert
Spring Concert
Summer Chorus Concert
Winter Concert
Spring Concert
Summer Chorus Concert
Winter Concert
Christmas Concert
March Concert
May Concert
Summer Chorus Concert
Winter Concert
Christmas Concert
Spring Concert
Summer Chorus Concert
Winter Concert
March Concert
May Concert
Summer Chorus Concert
Support the Oratorio Society
The Oratorio Society has been celebrating choral music since 1980, thanks to our many friends and supporters. Your continued generosity will help us to provide wonderful musical experiences for years to come, and will enable us to continue to keep ticket prices low so we can make great choral music accessible to all.

We will recognize your generosity in each concert program, listing contributors as shown to the right:
| | | |
| --- | --- | --- |
| Contributors | | $1 - $49 |
| Friends | | $50 - $99 |
| Donors | | $100 - $249 |
| Supporters | | $250 - $499 |
| Patrons | | $500 - $999 |
| Partners | | $1,000 - $2,499 |
| Benefactors | | $2,500+ |
Contribute by Check
If you prefer to donate by check, make it payable to "Oratorio Society of Minnesota" and give to any chorus member, bring it to a concert, or mail to:
Oratorio Society of Minnesota
P.O. Box 131814
St. Paul, MN 55113
The Oratorio Society is a tax-exempt, 501(c)(3) corporation. Donations are tax deductible as permitted by law.
Employer Matching Program
Ask your employer if they have a "matching gifts program" to match your contribution. If so, this is an easy way to double or triple your contribution, at no additional cost to you!
Our "Wish List"
Another way you can support the Oratorio Society is through donation of goods and services. These donations are also tax deductible. Currently, we are looking for:
Printing of our brochures & programs
Photography for publicity photos
For more information, or if you'd like to make a donation, please
send us a email
.
Viva Coro!, the Oratorio Society's youth engagement program, aims to inspire the next next generation of singers to be lifelong participants in choral music.

Viva Coro! invites high school-age singers to rehearse and perform a choral masterwork with the Oratorio Society and a professional orchestra.

For more information about the program, please send us an email.
Participants Comments
"It was incredible! It's one thing to listen to the Requiem with the orchestra and a full choir, but another thing to be part of it. It was like an out-of-body experience. No! It actually was!"

Henry, age 18
"It was just kind of like, ahhhhhhhhhhhhhhhhh"

Bethany, age 17
"I'd have to agree with that. Singing with 82 adult singers, with them and the sound they can make, is a very special experience."

Sam, age 17
Our Viva Coro! program provides wonderful benefits to high school singers, who get a chance to enjoy performing great choral works with professional orchestra and the Oratorio Society.
Summer Chorus
Held yearly during the month of July, Summer Chorus is a collaboration between the Oratorio Society of Minnesota
and the University of Minnesota School of Music.

Please check back for information on summer chorus 2024.
Requesting and Audition
Please email Matthew Mehaffey, Artistic Director, at [email protected] to set up a date and time.
Audition Process
Please read the following information carefully before requesting an audition – you will be asked to:
Bring a prepared solo to sing


Bring a copy for yourself and a bound copy for the accompanist. Note: the melody of a hymn tune is also acceptable, but you must bring a harmonized version of it for the accompanist.

Vocalize
To the high and low extremes of your range
Sing back pitch recall exercises
Sight read a selection provided
The whole process takes about 10-15 minutes.
Location
Auditions are held at Macalester Plymouth United Church (see rehearsal venue below)
Rehearsal Venue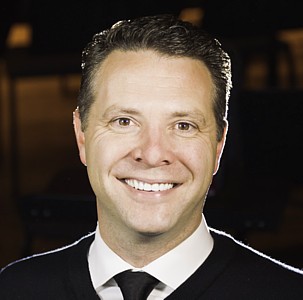 Artistic Director Matthew Mehaffey
begins his tenth season at the helm of the Oratorio Society of Minnesota. He is also Associate Professor of Music at the University of Minnesota, where he conducts the University Singers and Men's Chorus, and teaches graduate and undergraduate courses in Conducting and Literature. A native of Pittsburgh, Pennsylvania, Dr. Mehaffey holds degrees from Bucknell University (B.M.), Westminster Choir College (M.M.), and the University of Arizona (D.M.A).
Recent engagements include work with Washington National Opera, Saint Paul Chamber Orchestra, Minnesota Orchestra, Carnegie Hall, Czech National Symphony Orchestra, the Prague Proms, VocalEssence, Minnesota Chorale, Singers in Accord, and Turner Network Television. He has lectured nationally and internationally on the topic of rehearsal technique and is a frequent guest conductor of festival choruses. He is the author of Choral Ensemble Intonation and the editor of Teaching Music Through Performance in Choir, both for GIA Publications. He recently co-authored (with colleague Kathy Romey) a chapter on American choral music for the internationally released
The Cambridge Companion to Choral Music
. Additionally, Dr. Mehaffey serves as Director of Music at Hamline United Methodist Church in St. Paul. He enjoys golf, baseball, and curling in his spare time. He lives with his wife Libby, daughters Veda, Colette, and Summer, and their dog Bettis.
Accompanist Yichen Liang
Born in Suzhou, China, Yichen Liang is currently pursuing a DMA in Collaborative Piano at University of Minnesota Twin-Cities, studying with Timothy Lovelace. He studied piano performance with Edward Auer, and collaborative piano with Futaba Niekawa and Charles Prestinari at Indiana University. He got his undergraduate degree in Music Education at Shanghai Normal University. As a pianist, he participated in masterclasses with Peter Bithell, Kevin Kenner etc. Active as a versatile performer, he has played and sung in many performances of solo, chamber, and choral settings across Asia and the United States.
Conductor Laureate George S.T. Chu
George Chu founded the Oratorio Society in 1980 and served as its Artistic Director until May 2008, when he was named its first Conductor Laureate.
As professor of music and choral activities at Hamline University, Dr. Chu directs the A Cappella Choir, an ensemble which gives students — most are non-music majors — an opportunity to sing the finest choral music and tour internationally. Dr. Chu's love of teaching resulted in a unique expansion of the Oratorio Society's activities — Viva Coro! high school choral workshops, with an emphasis on leadership.
His musical training includes a bachelor's degree from Yale University (1969) and a Doctor of Musical Arts degree from Indiana University (1979), where he studied with Julius Herford.
George S.T. Chu
Administration
The Oratorio Society, a nonprofit corporation, is governed by a Board of Directors. Day-to-day affairs are handled mainly by volunteers. The Oratorio Society thrives on the energy and support of its chorus members and friends.
Board of Directors
The Society's Board of Directors consists of elected members who serve three-year terms, and the Artistic Director, an ex officio member. The current directors collectively have over 60 years of board experience, including service on nonprofit boards of directors in the arts, civic groups, and churches. This significant experience helps effectively guide and provide oversight to the Society's mission and activities.
Board Members 2022-2023
Karen Jollie
Barry Lau
Mark Gustafson
Andrea Hansen
Rick Saumer
Matthew Mehaffey, Artistic Director (ex officio)
Administration Team
Julie Kirsch, Choir Manager
Kim and Volker Petersen, Webmasters